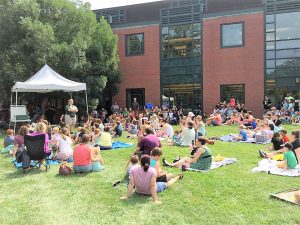 Mechanicsburg, Pa. – The Cumberland County Library System Foundation has received a $1,000 Educational Improvement Tax Credit Program (EITC) contribution from Weis Markets in support of the 2020 Summer Learning Program.
Weis Markets has been a supporter of summer learning at Cumberland County's eight library locations since 2012. The Summer Learning Program is a series of free events and activities designed to foster a love of reading and to develop or refine reading, writing, and learning skills. Summer learning programs help stave off the "summer slide," the loss of learning that occurs when school is out for summer. Numerous studies substantiate that children and teens who participate in summer learning programs not only do better in the classroom and on standardized tests when they return to school in the fall, they develop lifelong positive reading habits such as visiting their local public libraries and reading independently.
Cumberland County's public libraries lead their communities with educational, cultural, and entertainment programs, as well as authoritative and interesting materials.
Students from Cumberland County's nine public school districts – Big Spring, Camp Hill, Carlisle Area, Cumberland Valley, East Pennsboro, Mechanicsburg, Shippensburg, South Middleton, and West Shore – benefit from the Summer Learning Program, School-Year STEM, and many other library programs and services. The Cumberland County Library System is one of the busiest library systems in Pennsylvania, with more than 107,700 active library card holders visiting their libraries 1,171,574 times and year and circulating 2,273,924 items. More information on the Cumberland County Library System can be found at www.cumberlandcountylibraries.org.
The Cumberland County Library System Foundation is a federally tax-exempt not-for-profit organization, EIN 20-8077580, with a mission to support the Cumberland County Library System and its member library collections, program services, and innovative initiatives. Contributions to the CCLS Foundation are tax-deductible pursuant to current IRS regulations. More information about the CCLS Foundation can be found at www.CCLSFoundation.org.
# # #