Learning does not end when school lets out; neither does the need for good nutrition.  YOUR LIBRARY CAN HELP!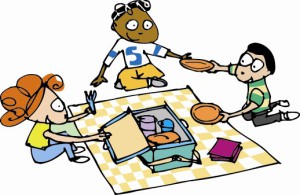 Become a site or a sponsor for the Summer Food Service Program (SFSP).  This year's application deadline is June 15.
Engage your community–Engage the Children!  Feed their bodies and their minds!
Contact Mary Ringenberg (1.800.331.0129)  at the Pennsylvania Department of Education if you have any questions.
The Summer Food Service Program was created to ensure that children in low-income areas could continue to receive nutritious meals during long school vacations, when they do not have access to school lunch or breakfast.  
Nearly 14 million children depend on free and reduced-price school meals for 9 months out of the year. Many of them are at nutritional risk during the months when their schools are closed for vacation. Unfortunately, only about 2.3 million children participate in SFSP each day.
SFSP is the single largest Federal resource available for local sponsors who want to combine a feeding program with a summer activity program. Please take advantage of this valuable resource to provide nutritious meals to the children in your community!
Join us in supporting children by becoming a partner in SFSP.