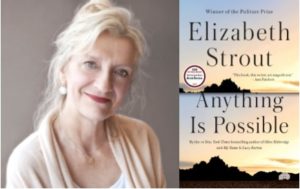 Lancaster, PA – Elizabeth Strout is coming to Lancaster County! The award-winning author will appear at the 2018 Spring Author Luncheon on Thursday, April 19, 2018 at 12:00 noon at the Calvary Church, 1051 Landis Valley Rd, Lancaster, PA. The Council of Friends of Public Libraries, Aaron's Books and the Library System of Lancaster County will host the luncheon, which is a fundraising event for public libraries in Lancaster County.
About the Author~ Elizabeth Strout was born in Portland, Maine, and grew up in small towns in Maine and New Hampshire. From a young age she was drawn to writing things down, keeping notebooks. During her adolescent years, Strout continued writing avidly, having conceived of herself as a writer from early on. She read biographies of writers, and was already studying – on her own – the way American writers, in particular, told their stories. By the age of sixteen she was sending out stories to magazines. Her first story was published when she was twenty-six.
Strout attended Bates College, graduating with a degree in English in 1977. Two years later, she went to Syracuse University College of Law, where she received a law degree along with a Certificate in Gerontology. She worked briefly for Legal Services, before moving to New York City, where she became an adjunct in the English Department of Borough of Manhattan Community College. By this time, she was publishing more stories in literary magazines and Redbook and Seventeen. Juggling the needs that came with raising a family and her teaching schedule, she found a few hours each day to work on her writing. To learn more about Elizabeth Strout, visit her website.
Anything Is Possible explores the whole range of human emotion through the intimate dramas of people struggling to understand themselves and others. Here are two sisters: One trades self-respect for a wealthy husband while the other finds in the pages of a book a kindred spirit who changes her life. The janitor at the local school has his faith tested in an encounter with an isolated man he has come to help; a grown daughter longs for mother love even as she comes to accept her mother's happiness in a foreign country; and the adult Lucy Barton (the heroine of My Name Is Lucy Barton, the author's celebrated New York Times bestseller) returns to visit her siblings after seventeen years of absence.
Access ticket information for the luncheon, which includes the presentation and a paperback copy of Strout's latest book, Anything Is Possible.
# # #
submitted by Mary Ann Heltshe-Steinhauer
Community Relations Manager,
Library System of Lancaster County