Combines reading and outdoor activities in one fun experience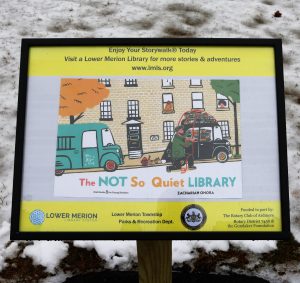 The Lower Merion Library System and the Lower Merion Parks Department have installed a StoryWalk at Ashbridge Park in the Bryn Mawr section of the Township. A ribbon cutting ceremony was held on Saturday, March 2. The StoryWalk is a literacy and exercise activity for young children and their caregivers. A series of 16 display units are installed along a pathway at Ashbridge Park adjacent to the playground area. On each display is a page from a popular children's picture book. Caregivers and their children read the book as they walk the path, providing an opportunity to support literacy skills, while enjoying an outdoor activity. Books will be changed quarterly.
The first book for the StoryWalk is The Not So Quiet Library by award-winning author Zachariah Ohora. Mr. Ohora is a resident of Narberth and was the special guest for the ribbon cutting. He spoke about his book and writing for children.
The ceremony was held on Read Across America Day. It is a nationwide reading celebration sponsored by the National Education Association that takes place annually on March 2—Dr. Seuss's birthday. Across the country, thousands of schools, libraries, and community centers participate by bringing together kids, teens, and books.
In addition to author Zachariah Ohora, speakers included: Township Commissioner and chair of the Township Library Committee, George Manos; Commissioner Andrew Gavrin; Director of Libraries, David Belanger; and Cynthia Rugart from the Rotary Club of Ardmore, which helped fund the project. Also in attendance were Donna Heller, Director of Parks and Recreation and Township Commissioners Scott Zelov, Anna Durbin, Michael McKeon, and Ray Courtney.
The StoryWalk is open at Ashbridge Park during regular park hours.
The StoryWalk is a series of 16 stations, each featuring a page from a popular children's book. Caregivers and children walk the path to read the book and enjoy the outdoors.
—
submitted by:
David Belanger
Director of Libraries
Lower Merion Township