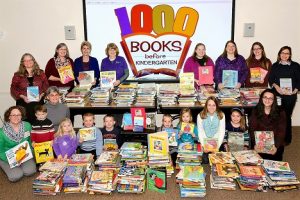 In 2013, Karen Payonk, Youth Services Director at the Lititz Public Library, initiated the first 1,000 Books Before Kindergarten program in Lancaster County.
Due to her encouragement and success stories, Renee Christiansen, Library System of Lancaster County, applied to the United Way of Lancaster County, seeking funds to implement the 1,000 Books Before Kindergarten countywide.
The grant was awarded and, in January 2015, the 1,000 Books Before Kindergarten Program launched countywide. See the photo above for the 'celebration photo,' with youth services librarians from around the county with an actual count of 1,000 books!  The launch was held at the Lititz Public Library.
Since that time, the program continues to attract the participation of new adult caregivers with young children. Thousands have participated; currently there are approximately 800 – 1,200 caregiver/child pairs reading their way to 1,000 books!
Many early childhood center teachers, and home providers are participating, passing along the 1,000 Books materials to the families they serve.  Participants stop in their local library to pick up the next set of numbered sheets and keep reading.
When they've reached the 500 book milestone, they receive a free book, "Who Sank the Boat." When they finish reading 1,000 books, they proudly come in to the library with their folder full of listed book titles 1-1,000! Sometimes pictures are taken, and the caregiver/child pair receive another free book, "The Night Before Kindergarten."
Over the course of participation– the staff sees that participants have become more familiar with the library and staff.  Participants  attend library events, and enjoy numerous books from the library collection!
——————-
submitted by:
Renee Christiansen, M.L.S.,
Youth Services Manager
Library System of Lancaster County