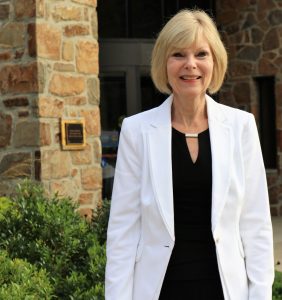 On October 26th, Marguerite Dube, Director of the Chester County Library and its Henrietta Hankin Branch, was honored at the Chester County Opportunities Industrialization Center (OIC) 39th Annual Award Gala. Marguerite received the 2018 Difference of One Award for her dedication to public service and to personal commitments to excellence in helping our community and its members.
The Chester County Library partners with the Chester County OIC, a nonprofit organization dedicated to providing free adult basic literacy education and life skills programs that prepare individuals for employment leading to economic self-sufficiency. The library supports adult literacy through its Adult Graded Reading collection, and by providing office space, computers, supplies, and other amenities.
Marguerite began her career at the Chester County Library in January 2001 as the Business/Finance Manager. She developed a passion for library services, and in 2006 was awarded an IMLS grant to pursue a Master's degree in Library Science at Drexel University. In September 2008, Marguerite was appointed as the Director. During her tenure, she has overseen many physical changes to the buildings and strives to create a welcoming atmosphere for all of our customers. She considers one of her major accomplishments to be the redesign of the balcony area of the library which houses the new Young Adult Area, the Jacobs Technology Center with its Digital Media Lab, and the spacious and attractive OIC Adult Tutoring area. Marguerite is proud of the partnership between the Chester County Library and Chester County OIC, and the impact it has made in the lives of so many people.
Congratulations Marguerite on this well-deserved award!
—
submitted by
Amy Krize Suveg,
Public Relations Specialist & Graphic Designer,
Chester County Library