The Bethlehem Area Public Library is hosting an exciting holiday fundraiser this year. We are partnering with Kindness is Magic Inc. to pay off student lunch debt and erase library fines. One in six children in Pennsylvania suffers from hunger and many of these same students are prevented from borrowing library books due to outstanding fees.
We believe every child–regardless of family background or economic status–should have access to a warm, nutritious meal during the school day and the ability to read as much as they want from the library!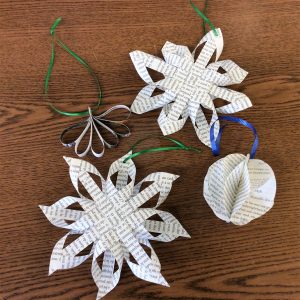 The ornaments are handmade by library staff and volunteers, up-cycled  from discarded library books.  Each purchase results in a contribution to Kindness is Magic and also helps a child regain access to the library. We hope to be able to surprise a school this holiday season by letting them know that every child's fine has been paid off! Additional sponsors are sought to assist with this program — contact library director Josh Berk for more information.
Once purchased, ornaments can be taken home or hung on the "Kindness Tree" soon-to-be placed outside the Main Library. With the community's support we hope to fill the tree with ornaments and help our children and families in need.
https://www.bapl.org/kindness-is-magic/
—
submitted by:
Josh Berk
Executive Director
Bethlehem Area Public Library