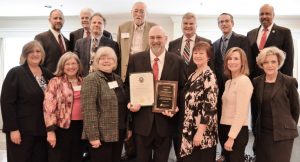 On Tuesday, April 17th, Joe Sherwood, Executive Director of the Chester County Library System, was presented with the J. Larry Boling Excellence in Government Award by the Chester County Chamber of Business and Industry.
Earl Baker presented the award to Sherwood, who has served as the executive director of the Chester County Library System since August 2011. He has nearly 30 years in the public library field.
The award honors "an individual who is a professional in the local government public sector of Chester County and who has established excellence in their jurisdiction in the administration of government, through economy, efficiency, and introduction of sound business practices, and projects or initiatives that demonstrate innovation."
Additionally, the Chester County Commissioners spoke during a panel as part of the "state of the county" business event held at the Downingtown Country Club.
Congratulations Joe!
—-
submitted by:
Amy Krize Suveg
Public Relations & Graphic Design Specialist
Chester County Library & District Center