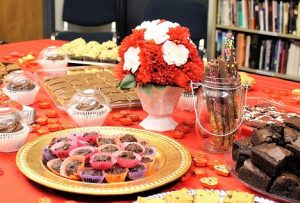 Red Land Library Celebrates Gold at ChocolateFest on February 8
ChocolateFest is the signature celebration of Red Land Community Library each February during Love Your Library month. On Saturday, February 8, staff will welcome visitors, friends, and neighbors to the library from 11:00 a.m. to 1:00 p.m. for the FREE event.  Attendees will enjoy chocolate treats, drinks, chocolate demonstrations by Karns bakery chefs, an Edible Book Contest, and a craft for children. Registration for the Edible Book Contest is underway at the library. This year's theme is "Gold".
"The 2020 ChocolateFest will be even more special as our library celebrates a well-earned achievement," says Red Land Community Library Manager Karen Hostetter.  "Our library is officially gold!  The Pennsylvania Library Association has announced that Red Land Community Library has achieved PA Forward™ Gold Star status."  According to Pennsylvania Library Association Executive Director Christi Buker, the PA Forward Star Library program recognizes libraries who clearly demonstrate their integration of PA Forward's five key literacies – Basic, Information, Civic & Social, Health, and Financial – into library programming.
"By doing this, libraries are making an investment in their communities by assisting all residents in enhancing their overall quality of life," says Buker. Red Land Community Library is among the 121 libraries across the state who have achieved gold star recognition.  It is the fourth York County library to attain this honor. Several libraries are currently at the bronze and silver star achievement levels. The goal is for all York County Libraries to reach gold.
The Gold Star recognition will begin at 10:45 a.m., followed by ChocolateFest at 11:00 a.m. "We hope community members will come help us celebrate our gold, and enjoy the incredible array of chocolate," adds Hostetter. Individuals interested in making a chocolate treat to share can sign up in advance at the library. The snow date for ChocolateFest is Tuesday, February 11 at 6:00 p.m.  Hours and directions to the library can be found at www.yorklibraries.org/etters-red-land, and staff can be reached for questions at (717) 938-5599.
Red Land Community Library is a branch of York County Libraries.  It is located at 70 Newberry Commons, Etters, PA 17319 in the heart of the Newberry Commons shopping center.  As a PA Forward Gold Star library, it provides programs and resources to support the success of all members of the community.
—
submitted by:
Deb Sullivan
Director of Community Relations
York County Libraries