Recent Acquisitions of the Senate Library
Within the last month, the Senate Library was pleased to welcome two additions to our archival and items collections, respectively.  While we do operate as a legal reference library for the Senate of Pennsylvania, we also maintain a substantial archival collection.  Here, we house historical Committee records, Reports Across the Desk, rare books and publications, Member ephemera, and more.  A rare book collector, himself, Senator Bob Mensch donated his first edition copy of The Pennsylvania Magazine, printed in 1877, to the Senate Library.  Fully titled as The Pennsylvania Magazine of History and Biography, this publication is the scholarly journal of the Historical Society of Pennsylvania, which aims to present the most prestigious research on state history in Pennsylvania and is still published today, three times a year.
When we receive a new acquisition, the Senate Librarian checks over the material for preservation issues like mold or damage.  This allows the Library team to best determine how and where to store the rare item.  Our Senate Library is climate controlled and closely monitored, helping to maintain our most fragile items in their best condition.  After assessing The Pennsylvania Magazine for any damage, it's catalogued in our in-house library system, admitted into our collection and safely stored behind glass.
As archivists and librarians, we see all kinds of things in between the pages of donated books and acquisitions.  While the Senate Librarian assessed The Pennsylvania Magazine, she came across these leaves, pressed between the pages.  We won't know for sure who chose to save these clippings, but little finds like this remind us why we love to explore and display our history: it connects us to our humanity, across generations.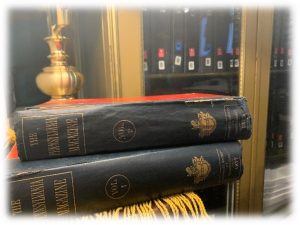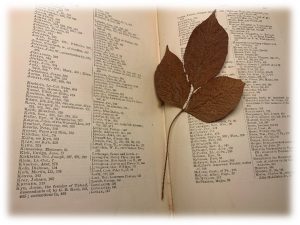 The exhibits presented and displayed by the Senate Library aim to feature a mix of our own collections, supplemented by temporary loans and items from our historical partners and Members.  Since we are largely paper-based, we rely on item loans and are hugely honored to display historically relevant artifacts, ephemera or memorabilia that aid in our presentation of Senate history.  Our annual We Remember: Service to the State and Nation display features Senate members and Librarians who served in the armed forces for the United States of America.  It's our way of honoring these heroes who have served the nation and the Commonwealth, in more ways than one.
In our current display for 2021, we are honored to continue our institutional relationship with the Hankins family of Philadelphia.  Bernadette Hankins, former Senator Freeman Hankins' daughter, has graciously loaned us her father's military flag and a framed photograph of him in uniform for our current display, and in years' past.  Senator Hankins' military flag was presented to his family for his service in the U.S. Army Medical Corps during WWII, from 1944-1947.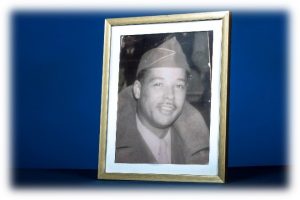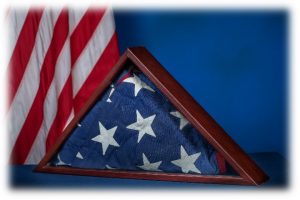 The Hankins' family attended the exhibit opening for We Remember 2021 and were touched and excited by our tribute to their father, grandfather and great grandfather, respectively.  After seeing how important their ancestor's legacy is in Senate history and especially in connection with the U.S. military, the Hankins family suggested permanently storing their father and grandfather's memorabilia with the Senate Library.  Having adequate space and controlled temperature to care for their precious items, we were honored to accept them into our permanent item collection.
The Senate Library is actively collecting historical and archival papers, ephemera, artifacts and memorabilia that directly support our mission of preserving and displaying the history of the Senate of Pennsylvania.  If you or your office is interested in donating items or papers to the Senate Library for preservation, please contact us directly.  Contact Senate Librarian, Alexandra Barbush, for more information or stop by the Senate Library in the Main Capitol Building, Room 157.