National Library Week
In anticipation of National Library Week, I'd like to thank each and every one of you for your work to deliver great library services to Pennsylvania's residents as library staff, volunteers and board members.
READ Poster Features Secretary Rivera
In the spirit of National Library Week, I'd like to share a recent photo of Pennsylvania Department of Education Secretary Pedro A. Rivera reading a favorite children's book, Pete the Cat.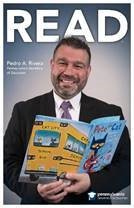 Please consider using this photo on your website in the coming weeks.  Two larger size files, which have images that you can print as posters for your library, were sent on the listservs.  As we develop more photos or video recordings that promote reading and libraries, we'll send you copies as they become available.
Happy National Library Week!
On behalf of everyone here at the Office of Commonwealth Libraries, Happy National Library Week!
Glenn R. Miller  |  Deputy Secretary & Commissioner for Libraries
Pennsylvania Department of Education  |  Office of Commonwealth Libraries
Room 200 Forum Building
607 South Drive  |  Harrisburg, PA  17120-0600
Phone:  717-783-2646  |  www.education.pa.gov  |  @PaDeptofEd
www.facebook.com/PADepartmentofEducation  |  pinterest.com/PADeptOfEd
VIDEO: #PAHasYourBack
The mission of the Department of Education is to ensure that every learner has access to a world-class education system that academically prepares children and adults to succeed as productive citizens. Further, the Department seeks to establish a culture that is committed to improving opportunities throughout the commonwealth by ensuring that technical support, resources, and optimal learning environments are available for all students, whether children or adults.
 This communication is issued on the Deputy Secretary's behalf by Jonelle Darr (jodarr@pa.gov; 717-783-5725)