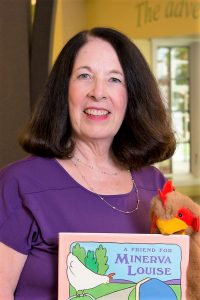 The Martin Library Honors Committee has announced its selection of Paula Gilbert as its Spring 2019 Martin Honors honoree.  They will recognize Gilbert for her outstanding service to children, libraries, and the community on Sunday, April 28 at 2 p.m. The public is invited to attend the event which will be held at Martin Library in York.
"Paula's legacy is her unparalleled passion and devotion for empowering children and their families through literacy and learning opportunities," says York County Libraries President Robert F. Lambert.  "Her enthusiasm is not contained within the bricks and mortar of our libraries.  She leads our vision of children's services throughout York City, York County and Pennsylvania."
The Martin Honors ceremony will feature several guest speakers.  They include Retired York College Professor of Education Dr. Anthony Fredericks, Pennsylvania Deputy Secretary and Commissioner for Libraries Glenn Miller, Martin Library Director Mina Edmondson, and Girl Scouts in the Heart of PA Program Director Allison Meckley.
Gilbert has served as the Director of Youth Services for Martin Library since 1986 and the Director of Youth Services for York County Libraries since 1995.  In 2018, the Pennsylvania Library Association presented her with its highest honor, the Distinguished Service Award. And most recently she was among the nominees for the Downtown First Outstanding Individual Award.
Gilbert's accomplishments include 23 years of leadership involvement in the United Way's early learning initiative, FOCUS. She currently serves on the Board of Directors of the Pennsylvania Humanities Council and the Positive Energy Arts Foundation. She is member of the Healthy York County Coalition Leadership Council and the Community Progress Council's Policy Board for Early Head Start/Head Start.
A key component of the Martin Honors event is to establish a perpetual fund to purchase books in the name of the honoree. Contributions are welcome by donating securely online at donate.yorklibraries.org or by mail to the Paula Gilbert Honors Fund c/o Martin Library, 159 East Market Street, York, PA 17401.   Community members interested in attending the April 28th celebration honoring Gilbert should RSVP with the names of attendees to development@yorklibraries.org or (717) 849-6979.
The day's event is planned by the Martin Library Honors Committee which is led by Robert Cox.  Committee members include Luther B. Sowers, Brenda Elby, Lynne Danyo, Don Dellinger, Jr., Robert F. Lambert, Donna Pullo, Lori Rene Weyant, and staff liaison Georg Sheets.  Martin Library, a branch of York County Libraries, is located at 159 E. Market Street in the city of York and has been transforming lives and serving communities since 1935.