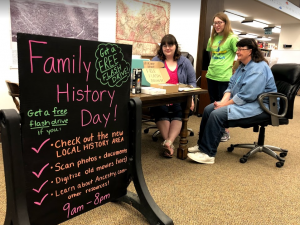 Starting in mid-2017, Benson Memorial Library decided to expand its local history services by hiring its first full-time historian, Jessica Hilburn. Throughout her first year of employment, the library has been recognized for multiple major newsworthy accomplishments in the community. In the Summer of 2017, the library partnered with college senior Juliet Hilburn in her work on the restoration of the local Ridgway Cemetery in Hydetown, PA. Research was completed on the departed residents of the cemetery and a map of the stones was created and digitized.
Building on the success of this project and a growing reputation for successful research requests, Hilburn was approached by patron Traci Moore in April 2018 for assistance finding her birth parents. Through in-house and online resources, the library played a major role not only finding Moore's biological family, but in helping reunite them.
Capitalizing on heavy foot traffic during the Summer Reading Program at the library, local history and genealogy events have been a hit in Summer 2018. On June 12, 2018, Benson Memorial Library hosted genealogist Jim Morrison who gave a talk about his experience and expertise which was well-attended by the public. Another genealogist will speak at the library on July 10, 2018 on her experiences researching her family with library resources.
Finally, the library conducted an open house in the Local History Area, established in March 2018, for community members to learn about the free resources available in local history and genealogy research. From June 19 through June 21, Hilburn helped patrons scan documents on the library's cutting edge high-definition scanner, convert VHS home movies to digital for continuing preservation and utility, introduced people to microfilm and microfiche, and even provided one-on-one genealogy help. This event was covered in the local newspaper, The Titusville Herald, and more than 40 people took advantage of this three-day, thirty-six-hour open house.  An additional three-day open house will be held July 24 through July 26.
—
Submitted by:
Justin Hoenke,
Executive Director
Benson Memorial Library
justinthelibrarian.com
benson.ccfls.org
bensonkidsandteens.com
nwpastories.com