Multi-District Workshop:
Library Patrons: Practical Tools for Resolving (and Preventing) Problems
Do you struggle with homeless, mentally ill, and addicted patrons? What about aggressive (and potentially) violent patrons? Do you have patrons who bring in too many bags? Smell really bad? Panhandle in your library? Argue with you and other patrons?
This interactive training is much more than simple "sensitivity training". Attendees will learn how to de-escalate crisis situations (and prevent them entirely). There is a special focus on mentally ill and/or addicted patrons, but the tools and techniques are applicable to all problematic patrons.
By the end of the program, attendees will:
have greater confidence handling problematic behavior;
have the tools to be more inclusive of marginalized populations;
understand the difference between a "punishment-drive enforcement" approach and an "empathy-driven enforcement" approach;
have practical tools and strategies for preventing or deescalating conflict and crisis.
Attendees will be provided with a link to a handout prior to the workshop. Please print it and bring it with you. The handout will not be available at the workshop.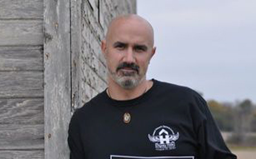 Ryan Dowd, Attorney, MPA has worked most of his career in homeless shelters. Currently, he is Executive Director of the second largest homeless shelter in Illinois. He trains libraries around the country (and world) on how to work with difficult patrons, using the same tools that homeless shelters employ. He is the author of the upcoming ALA book, "The Librarian's Guide to Homelessness: an Empathy-Driven Approach to Solving Problems, Preventing Conflict, and Serving Everyone." He is married, with two children and two dogs. His favorite book is "Dharma Bums" by Jack Kerouac.
This workshop will take place at two locations:
Free Library of Philadelphia             Upper Merion Township Building
Thursday, May 17, 11:30 to 3:30 p.m.     Friday, May 18, 9 a.m. to 1 p.m.
Registration: 11 a.m.                                     Registration & Coffee: 8:30 a.m.
—————————————————————————————————————————————————–
Register for the workshop: https://www.surveymonkey.com/r/Q7W6K7Y
This project is made possible by a grant from the Institute of Museum and Library Services as administered by the Pennsylvania Department of Education through the Office of Commonwealth Libraries, and the Commonwealth of Pennsylvania, Tom Wolf, Governor.
Photo: By Stones15woon