March 11, 2021
The William Jeanes Memorial Library and Nicholas and Athena Karabots Center for Learning in Lafayette Hill is pleased to announce their third Formalwear Giveaway for teens and middle-schoolers, running now through Sunday, March 14th.
Using donated new and like-new items from the community, the Library has collected almost 600 dresses, suits, and tuxes, as well as dressy shoes, jewelry, and handbags.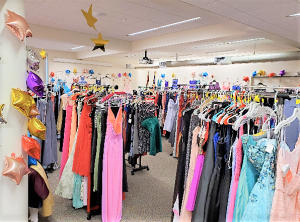 Teen Librarian Sara Huff organizes these Giveaways, which have grown in popularity from year to year, both in terms of donations and participants.
"We were scheduled to have a Giveaway event last March, but unfortunately we had to close the Library the week before," she says. "We've stored all of these beautiful items, because we know that schools and organizations—and families—would figure out how to have safe, virtual or socially-distanced events this year. They have, and now we're ready to give it all away!"
During her years working with teens, Sara became aware of the enormous cost of attending prom each year. She heard from students and parents who said the cost of the outfit alone was enough of an impediment to attend what should be a fun event for all. She learned of other libraries who held successful donation drives and giveaway events across the country, and in 2017 held the first drive at William Jeanes. It was focused solely on Prom and dresses, and drew donations from other states and even a local department store that was closing.
Attendees came from outside the Montgomery County area. Based on feedback and community interest, the second drive—held in 2019—was expanded to include any milestone event for teens, such as weddings, Spring Flings, homecoming dances, and other special occasions. Menswear, such as formal suits and tuxes, were added.
Publicity was expanded to the tri-state area, and over 70 schools asked for flyers. "We had a family of brothers come to get suits for their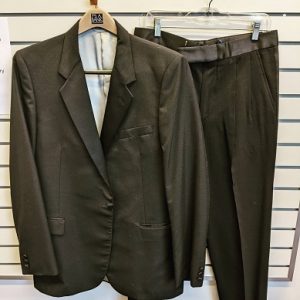 oldest brother's wedding, and we had a shuttle bus of teens from a group home in Lansdowne," Huff says.
"At that time, we saw the far-reaching impact this event was having," explains Library Director Lisa Clancy, "and the decision was made to make this an annual event. Then 2020 happened."
The Library carefully packed up everything that had been donated during a shortened collection time, and waited. "We know that the local schools were still figuring things out last spring, and we contemplated doing a Giveaway in the fall, in case they had Homecoming dances," says Huff, "but in the end we decided to wait." The Library closed to the public again in December, January, and part of February, "but once we planned to reopen, we felt it was a good time to move forward. Sara has come up with a way to keep the 'shoppers' socially distanced by asking them to make an appointment to come in," adds Clancy.
A key element of the Giveaway is that no questions are asked of any of the teen and middle school "shoppers." "We don't require them to prove they can't afford to buy an outfit, we don't ask where they are from, and we are open to any teen who is interested for any reason." This fundamental approach to the Formalwear Giveaway extends the public library's mission, and the community support of Huff's idea has been amazing, according to Clancy. "We don't ask you to prove you can't buy a book, we don't ask you why you need to borrow some material or use a computer. This is just a logical and compassionate extension of our mission," she says.
Past Giveaways were covered by local news stations, and community volunteers helped staff the event, even offering on the spot alterations!
In the past, leftovers have gone to smaller prom closets some enterprising teens have started at their own schools, while others have gone to thrift shops benefiting local charities like Laurel House. Promotional efforts have included the staff wearing some of the items over their work clothes in the days leading up to the giveaways.
This year the Library's Willaman Community Room has been transformed into a glamourous display area, complete with decorations, a red carpet, a disco ball, dresses grouped by size, and body-positive messaging throughout. Teens will schedule a "shopping" appointment, and masks will be required. Each shopper will be encouraged to take several items, and will receive a goody bag of necessities—like wrinkle remover, earring backings, and candy—on their way out.
"Our community was so generous in their donations last year," Huff says. "We have a wide variety of sizes and styles, brand names, custom pieces, vintage looks, and more. It's taken a lot of staff hours to sort and set up, but hopefully the shoppers will have a great, fun time, and feel like something normal has returned to their lives!"
There are still shopping appointments available. Please visit the event information page here to sign up: https://jeaneslibrary.org/teens/formal-wear-drive/
If you are interested in learning more about the organization of such an event, please feel free to contact Sara Huff at shuff@mclinc.org or 610-828-0441 x113.
The William Jeanes Memorial Library and Nicholas and Athena Karabots Center for Learning is located at 4051 Joshua Road, Lafayette Hill, PA, 19444, in Whitemarsh Township, Montgomery County. www.jeaneslibrary.org 610-828-0441. For general queries, please contact jeanesinfo@mclinc.org
The mission of the William Jeanes Memorial Library is to be a resource center that serves the diverse and changing needs of the community by providing materials, programs and services for education, enrichment and enjoyment. The William Jeanes Memorial Library and Nicholas and Athena Karabots Center for Learning is the official library of Whitemarsh Township, though everyone is welcome to use the library's services and resources and attend library programs. We do not close the doors to anyone nor do we discriminate on any basis.