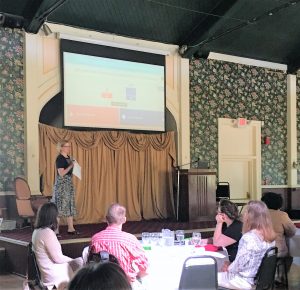 On July 13, District Consultants within the Northwest Region hosted the Multi-District Workshop: Library Boot Camp at The Franklin inFranklin.
Four sessions throughout the day addressed the following topics: Director/Board Roles & Responsibilities, Legal, Insurance, Human Resources, and Financial Aspects of a library. Each session was a 45-minute presentation with a 15 minute Q&A opportunity for topics not covered during the presentation.
Leading off the morning with an interactive Kahoot session, Amy Geisinger, the New Castle District Consultant, tested both directors and trustees' knowledge of their roles and responsibilities in the organization. Participants "loved the Roles and Responsibilities presentation in content and method of delivery.  It gave our team a chance to clarify the roles together".
The next session on Legal, Insurance, and Emergency Issues, was led by Leslie LaBarte, the Seneca District Consultant. Leslie demystified aspects of Small Games of Chance, the Pennsylvania Library Code & Regulations, along with tools for handling emergencies, such as a pocket emergency plan.
During lunch, participants discussed real scenarios they had encountered and those scenarios were presented to the consultants for feedback.
The afternoon sessions began with Human Resources highlights from Marcia Wilking, Erie/Crawford District Consultant. Marcia covered all aspects of the hiring/firing processes, Americans with Disabilities Act compliance, at will employment, personnel policies, and personnel privacy. During the presentation, several scenarios were presented and the participants were asked what their initial reactions would be, before Marcia advised them on the proper course of action.
Concluding the afternoon, Erin Joyce, Oil Creek District Consultant, navigated participants through the financial aspects of running a library. Erin covered the necessary documentation and information everyone needs to know about their library, such as their EIN, if they are a non-profit or department of government, and the accounting principles that the library operates on.
All participants were provided a binder with essential supporting documentation discussed during each session and a flash drive containing larger documentation, such as the PA Library Code, Regulations, Accounting Manual, 990 Basics, and Emergency Plan documentation, along with the presentations from the workshop. One participant felt "the presentations were very good.  All the material could not be covered in the time allotted and lets face it our brains can only handle so much before they start shutting down.  By giving us a flashdrive we can continue and review at our leisure."
This training is made possible by a grant from the Institute of Museum and Library Services (IMLS) as administered by the Pennsylvania Department of Education through the Office of Commonwealth Libraries, and the Commonwealth of Pennsylvania, Tom Wolf, Governor.