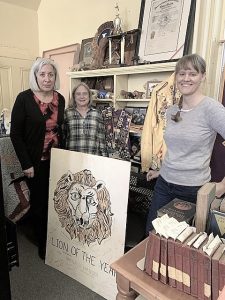 Two attendees of Les Bénévoles created and taught the use of a data base to record all non-book artifacts for the Darby Free Library.
The Library had a room dedicated to the history of the community and none of the realia had been previously catalogued.  The volunteers, Collection Specialist Marianne Templeton and Maria McWilliams, started with the Lion's Club Collection.  Les Bénévoles, which translates to The Volunteers, had a day of volunteerism at local museums for attendees.  The name Les Bénévoles was chosen to complement the French heritage of New Orleans, which had hosted the conference in 2015, and has been carried over to subsequent conferences.
Are the non-book items at your library cataloged?
Learn more about non-book items in libraries:
Realia catalogued at the Digital Public Library of America
Some Public Libraries Home to Rare and Valuable Treasures
Realia Cataloging Examples at the Library of Congress page