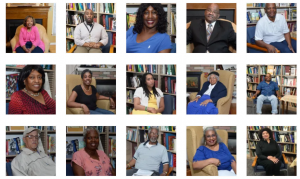 The Bethlehem Area Public Library is thrilled to share with you the Black Bethlehem Project, a first-of-its kind historical study of the Black experience in Bethlehem, PA.
This project was funded through the Lehigh Valley Engaged Humanities Consortium and spearheaded by BAPL's Rayah Levy, who says, "I am so thankful a vision has become a reality, and that Bethlehem's Black community placed their trust and confidence in me to have their voices and stories heard. To see it come to life after a year of planning, remaining steadfast, and now coming to fruition during a tumultuous time of racial divide and continued systemic racism, in which one must now protest that 'Black Lives Matter,' gives such a sense of accomplishment. It's a contribution and a reminder to American history that the voices of Black life matters. Additionally, my hope is that the Bethlehem community takes the time to listen, learn, and write about a small and deep-rooted African-American village that continues to thrive no matter the obstacles."
The collection focuses on the Black experience in Bethlehem from the mid-twentieth-century to the present, using oral histories of those who lived it telling their own stories. Visitors to the site can read the interviews or listen to the recordings of these fascinating individuals. A collection of photographs and other historical documents will be added to the project as it continues to grow.
—
submitted by:
Josh Berk, Executive Director
Bethlehem Area Public Library