Flag Day Ceremony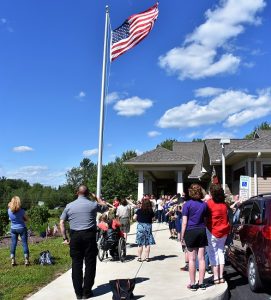 On Thursday, June 14th  the North Pocono Public Library celebrated with a brief patriotic Flag Day Ceremony to honor the symbol of our country, and to honor those who have served and continue to serve to preserve our freedom.
Moscow, PA June 14, 2018
The North Pocono Public Library celebrated Flag Day with a ceremony at the library. The program included brief commentary from Lackawanna Commissioner Patrick O'Malley, Pennsylvania State Representative Michael Carroll, and Pennsylvania State Senator John Blake.  The program also included brief remarks from John Croom, Past Commander, John J. Michaels Memorial VFW Post 5207, reflections by June Ejk, Board of Trustees of the North Pocono Public Library who served as a Red Cross Disaster volunteer during the 9/11 disaster in New York City, and a poetry reading by Jacob Bianchi, a local Boy Scout.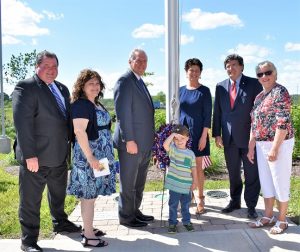 The Raising of the Flag was presented by Local Boy Scout Troop 132, Spring Brook Township, Assisted by Cub Troop 126. The national anthem was presented by Jessica Milewski, of the 198th Military Band and the local Girl Scout troops presented a memorial wreath in memory of those who sacrificed their lives for our freedom.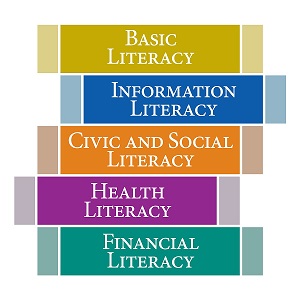 As a Gold Star Library certified by the Pennsylvania Library Association, the North Pocono Public Library strives to promote five literacies including: Civic and Social Literacy.  This program supports our efforts to maintain this commitment of excellence in the community.
—
submitted by:
Susan Jeffery, Director
North Pocono Public Library