The Erie County Public Library (ECPL) is embracing PA Forward as the framework by which they are building partnerships to enhance services for patrons and to reach non-traditional library users. Their efforts focus on bridging the gaps in Basic, Information, Civic and Social, Health and Financial literacies for under-served populations in Erie County.
The Library's Outreach Services is developing a network of strategic and sustainable relationships with county departments, other municipalities, and non-governmental organizations. Using the literacies of the PA Forward Initiative, they are creating long–term partnerships that facilitate improvement and growth throughout Erie County.
The Library is a department of the Erie County Government and has collaborated with the Erie County Health Department to distribute naloxone kits provided by the
Co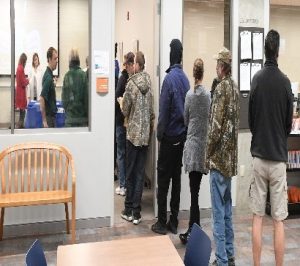 mmonwealth. This partnership promotes Health literacy. The library anticipates incorporating other health care agencies to promote the need of health awareness to their patrons.
Partnering with a local Community Center, ECPL hosted an event where students and their families could file and submit their 2019-2020 Free Application for Federal Student Aid (FAFSA®). This financial literacy evening was a joint effort of the Library, Go College, and The John F. Kennedy Center. Financial Aid professionals of Gannon University, Mercyhurst University, Penn State University and the Behrend College provided assistance to students and families with questions about the filing process.
In another partnership, ECPL and Erie's Multi-Cultural Resource Center are collaborating to expand services to the new American population in Erie County. The goal is to acclimate individuals and families to the North American tradition of public libraries as a resource for improvement and empowerment.  The shared programming will support Basic, Civic & Social and Information Literacies.
—
Submitted by:
Marcus Yuille
Outreach Services Manager
Erie County Public Library