Libraries and Community Discourse
Recently a friend asked why Martin Library hosts community forums and town hall meetings. My response as director of Martin Library was, "These are exactly the types of community events that should occur in a library."
Martin Library and all York County Libraries are community hubs. Our doors are open to everyone in our community. Our libraries serve as safe places for people to gather, learn, connect and initiate meaningful discourse.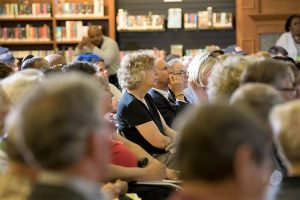 Libraries believe in the power of open dialogue. Programs that are both engaging and thought- provoking meet the needs of the ever-changing population in York County and the City of York. Our communities are diverse, made up of individuals and groups with varying backgrounds, opinions and ideas. Respecting the voice of every individual in our community is imperative.  Our members and community friends who attend open forums, listen with the purpose of understanding, and voice their viewpoints respectfully stimulate collaborative transformation within their community.
On May 30, Martin Library opened our building to a community–wide forum, "The Riots, the Charrette & the Aftermath". The program drew 170 members of the community, including seniors, young adults and children with their families.
The panel discussion, hosted by York Daily Record discussed precursors to the 1968 and 1969 race riots, the history surrounding the riots and the Charrette following them. A Charrette is described as a form of community group therapy. Discussion focused on key findings of the Charrette: the need for transportation, equitable medical care and affordable housing. Many changes have occurred in York during the 50 years since View the live stream of the event.
—-
submitted by:
Mina Edmondson
Director, Martin Library