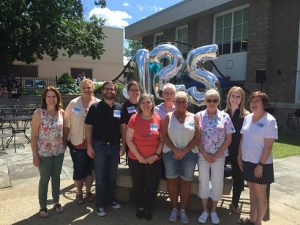 The Butler Area Public Library celebrated its 125th anniversary on June 22nd with an old-fashioned Ice Cream Social.
Three-hundred and fifty library friends, staff, and community representatives gathered in the library's courtyard for an ice cream sundae bar, games, crafts, and live music by folk duo Hungry Town. Guests also enjoyed Coke floats and Coca Cola in classic glass bottles, as the library was founded the same year that Coke was first bottled!
State Senator Scott Hutchinson, State Representative Marci Mustello, and Butler Mayor Benjamin Smith each issued proclamations recognizing the library's anniversary.
The ice cream social was part of a year-long celebration of the library, which has included an open house, digital and physical exhibits of library history, and a new community partnership with Recon Brewing. The Butler-based brewery created a limited edition "Overdue 1894" American Pale Ale which debuted in July, with a portion of sales coming back to benefit the library.
The Butler Area Public Library was established in February 1894 by the local women's literary society.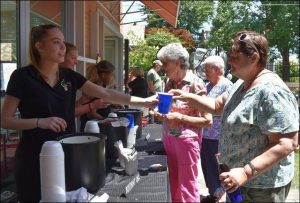 This first library began modestly, with just 432 books in a rented room nestled on a downtown block between grocers, a fish monger, and horse stables. The public library occupied three other rented locations before the funds were raised to construct a permanent library at the present North McKean Street location. The site in use today opened to the public on September 20, 1921, funded in part by the Carnegie Foundation, and through the fundraising efforts of the generous citizens of Butler. The building was doubled in size in 1966, expanded again in 1988 with the acquisition of the neighboring Luther Hall building, and saw a major renovation project in 2003. In 1987, the Butler Area Public Library joined with other county libraries to form the Butler County Federated Library System.
For 125 years the Butler Area Public Library has been a resource for all in the city of Butler to pursue information, education, and possibilities. The first branch library—which opened in 1911—was established in a section of company housing for the Standard Steel Car Company. It was stocked with books and newspapers in the foreign languages of Butler's immigrant laborer communities, and offered English classes. Archived librarian's reports show BAPL's resilience through world events and evolving trends. The library rode out the Great Depression to keep doors open for patrons in need, in part with the help of WPA workers who repaired both the books and the building. The collection evolved to include everything from magazines to film strips to framed artwork. For generations, Butlerites of all ages have visited the public library for story time, homework help, research, job search assistance, meeting spaces, new hobbies, and relaxation. The library has been, and will continue to be, a vital resource for the community.