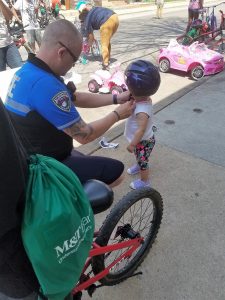 A Bike Safety Day was held recently at the Salem Square Library.
Working with Leadership York, a development course for upcoming leaders in the community, the Salem Square Library along with our community partners and local organizations such as City of York, York City Police, Crispus Attucks, SafeKids/Wellspan, YMCA, YWCA, as well as several bike safety organizations. Leadership York also obtained donations for the day's events.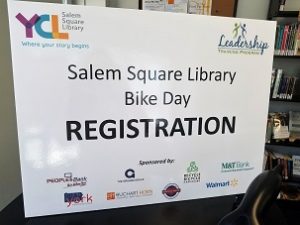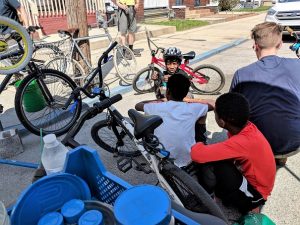 The program closed a city block and enabled children and families to "play in the street". More than 200 people attended the event, enjoyed the music and toured the library.
Each individual who registered received a back pack and the opportunity to win a bicycle. Bike locks and helmets were available for the children in attendance. Every child had the opportunity to have a bicycle tuneup, breaks and seats adjusted, and tires filled and aligned. Two bicycles were given away at the end of the event.
The Salem Square Library opened in May of 2017 in an underserved community in the City of York. The library provides services to families with afterschool programs, STEAM programs and early literacy classes in the mornings In conjunction with community partners adults in the Salem Square community have access to ESL Classes,  direct contact with job and career agencies, and support for workforce development activities.
—-
submitted by Mina Edmondson
Director of Martin Library