I Like Being Loud in the Library (Official Music Video)
The Bethlehem Area Public Library (BAPL) released a music video today! The song is called I Like Being Loud in the Library  and features the voices and musical talents of many community members. The song was written by Library Director Josh Berk.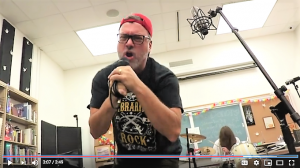 "I actually wrote most of the song years ago when I was a children's librarian," Berk said. "It was just a funny little storytime song from the point of view of a kid who is always getting in trouble at the library." Then this year, the library cut the ribbon on a new public recording studio, Studio 11, and completed renovations on the Cohen Room, a great room on the first floor perfect for hosting concerts, among other things. I was thinking about the studio and all the unconventional stuff we do at BAPL, and the song came to mind." He added lyrics to include highlights at BAPL, such as Spike the library lizard.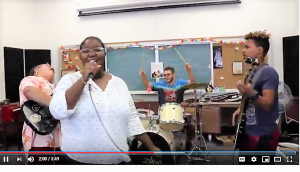 "We do like being loud in the library," he said. "It's sort of our theme song. Both in terms of literally being loud and also just the idea of doing exciting and unconventional things you wouldn't necessarily expect."
Berk plays guitar and sings on the track, accompanied by Outreach Librarian Regina Kochmaruk. Other musicians on the song include April Smith and Matt Molchany of the indie rock band Voir Voir. The video was filmed and edited by Lab212, a local production company who has spent much of 2019 filming various library event for inclusion in the video. Bethlehem-area student musicians also make an appearance, rocking out in the studio.
At the end of the song there is a huge chorus singing together, a group that includes library staff, area musicians, community members, and volunteers. Using the library's recording studio, multiple sessions were recorded before Molchany, who is also a sound engineer, mixed the track, giving it the feel of a giant, rousing sing-along.
How many voices are in that chorus? "I'm not sure," Berk said. "I lost track somewhere around one hundred."
—
submitted by
Josh Berk
Executive Director
Bethlehem Area Public Library